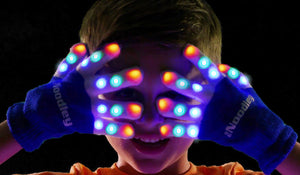 Toys that Light the Imagination
Kids are fascinated by pretty much anything that lights up.  We took everyday great kids items and brought them to life with bright fun colored LED lights.  We hope our products will inspire kids to use their imaginations to make their own fun.
SHOP GLOVES
Quality Gifts for Kids
Designed with quality materials, our light up toys make great gifts that kids go crazy for.  Their eyes will light up with our super cool light up gloves.  We've specifically sized our gloves to fit kids from small children to teens and even adults.  With multiple light effects from strobe to solid, there's plenty of options to light the imagination.
SHOP GLOVES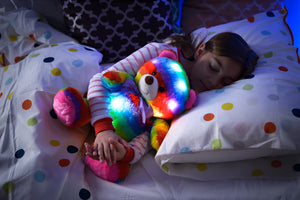 Soothing Night Lights
Our light up plush stuffed animals make great soothers for children afraid of the dark. The soothing lights help ease anxiety and provide comfort. Easy to turn on lights at any time, and turn off automatically. Soft, colorful and ready to take with you anywhere!
SHOP LIGHT UP PLUSH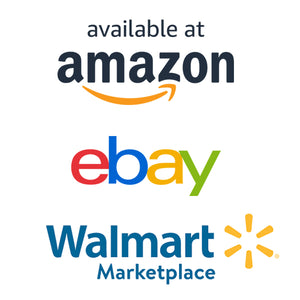 Buy with us or at our Partners
Available on Amazon.com, Walmart Marketplace, and eBay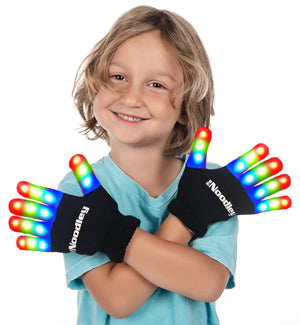 The Noodley Funky Flashing LED Light Up Gloves
The Noodley's Funky Flashing LED Light Gloves are great for kids and adults of all ages and can be used anywhere your imagination takes you. With our multicolor LED light gloves, you can create your own light show at parties, concerts, weddings, dancing, and other entertainment events. These glowing gloves will sure to be a big hit roller skating or ice skating. Children love light toys at birthday parties, and no clown outfit is complete without multicolor glowing finger gloves! Take them your favorite sporting event – football, hockey games, and show your team support. Make your own glow glove costume, perfect for Halloween. The flashing light gloves will keep your children's hands warm Trick or Treating and provide added safety. Show your enthusiasm for New Year's Eve, July 4th, St. Patrick's Day, Valentine's Day, Flag Day, Memorial Day, Labor Day, and they make great Christmas presents. Can be worn year round from camping and summer nights to cold winter days. Our multicolor glow gloves make great gifts for kids and adults of all ages. For best results use in low light or at night.
BUY NOW
From the Blog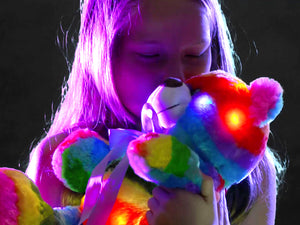 Enter light-up stuffed animals – a delightful fusion of coziness and illumination. In this blog, we'll explore the enchanting world of these glowing companions and unveil the benefits they bring to both kids and the young at heart.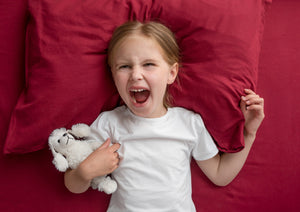 Helping children learn to sleep alone can be a challenging process for both the child and the parent. Here are some tips that may be helpful in facilitating the transition: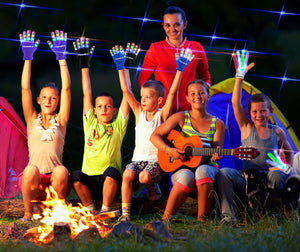 Kids love to go camping, but some can get scared when the darkness of night falls.  Having a personal light source can give kids a feeling a security, and even take their minds of any scary noises.  Try taking some L
ED
 gloves on your next camping trip and you might be surprised at all the things the kids find to do with them.  Here are our top reasons to bring a pair